20MINUTOS.ES
En esta ciudad de Florida están cinco de los diez mejores parques de atracciones del planeta.
Islands of Adventure ha sido elegido mejor parque de atracciones del mundo por quinto año consecutivo.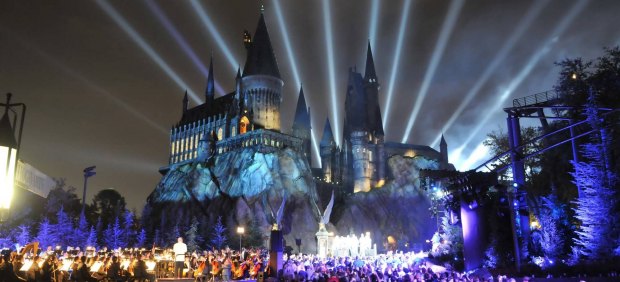 Este verano conocimos la lista de los mejores parques de atracciones del mundo, al menos según la opinión de los usuarios de TripAdvisor. De la lista hay dos cosas que llaman la atención. Por un lado, que el mejor parque acuático del mundo vuelve a ser uno español (el Siam Park de Tenerife). Por otro, que Orlando es la capital de este tipo de diversión.
Con casi 200.000 habitantes, la sexta ciudad más grande de Florida, Orlando es conocida por sus hoteles y atracciones turísticas, y no sólo Walt Disney World Resort. En esta ciudad del estado norteamericano de Florida encontramos cinco de los diez mejores parques de atracciones del planeta. Son estos:
Islands of Adventure
Parte del complejo Universal Orlando Resort, ha vuelto a ser elegido mejor parque de atraciones del mundo (ya van cinco años seguidos). En Islands of Adventure nos esperan, entre otras aventuras, los dinosaurios de Jurassic Park, los superhéroes de Marvel y el mundo de Harry Potter.
Magic Kingdom Park
El gran clásico de los parques, de hecho abrió sus puertas en 1971, y uno de los iconos de Disney, a través del castillo de Cenicienta con sus fuegos artificiales. Se encuentra en Walt Disney World Resort, en Lake Buena Vista. Aunque hay atracciones y montañas rusas, los indiscutibles protagonistas son los personajes de Disney, a lo largo de espectáculos y zonas de juego pensados para los niños.
Universal Studios Florida
Creado entorno al mundo del cine, sus atracciones se basan en películas como Men in Black o La Momia, pero también en series de televisión, como Los Simpson. Otro gran protagonista es Harry Potter: el tren Hogwarts Express lo conecta con el Islands of Adventure. Decorado como un plató de cine, el Universal Orlando tiene también atracciones en 3D.
 
Disney Animal Kingdom
Dentro del Walt Disney World Resort, éste se ocupa de la conservación de la naturaleza (¿?) y los animales. Entre otras muchas cosas, aquí se puede viajar a la época de los dinosaurios, ir en tren hasta el Everest o hacer un safari por África.
SeaWorld
Aquí el mar es el protagonista. Ofrece desde rápidos en barca a toboganes de agua de alta velocidad, pasando por piscinas de olas y también playas. Posee una gran colección de animales marítimos que se muestran en acuarios, reservas y espectáculos.